PACT

POLITICAL ACTIVISM & CRITICAL THINKING
POLITICAL ACTIVISM & CRITICAL THINKING
One of the biggest problems that people in Europe have faced in recent years is radicalization, which is reflected in the declining participation of Europeans in political life and the radical tendencies of the political ideas with which they seem to be concerned , shows. These trends become even more visible in times of crisis. Especially in times of the Corona crisis, in which people are experiencing severe cuts in the exercise of their personal freedoms, many people are particularly vulnerable to radicalization, in which groups or individuals, through their radical behavior, represent one-sided political views and do not allow other views.

The phenomenon of radicalization is now more often equated with terrorism and violent extremism. If we delve deep into Greek and European history, we will find that almost everything comes from politics and the consequences of various radical actions are painful for both society and people. To counteract this, we must give more thought to the role of political education, the recognition of rights and the strengthening of European cooperation.
What are the reasons for radicalization and how do radicalization processes work?

Who are the actors and how is radicalization propagated? How can democratic values ​​be conveyed and realized?

What democratic means are available to implement initiatives? How does political participation work?


Which skills have to be acquired in order to be able to participate in socially relevant topics?
The aim of this project is to find out how people who may be at risk of radicalization can be methodically strengthened in order to participate in socially relevant topics, also on a political level.
Organizations from five countries are working together in this project.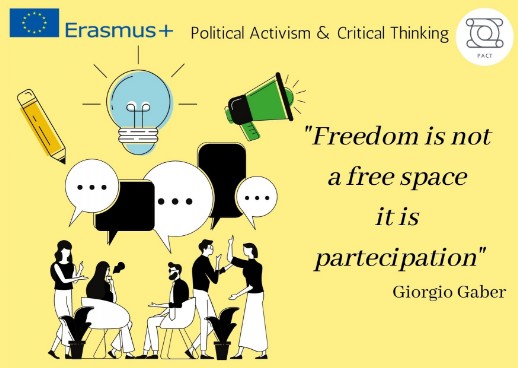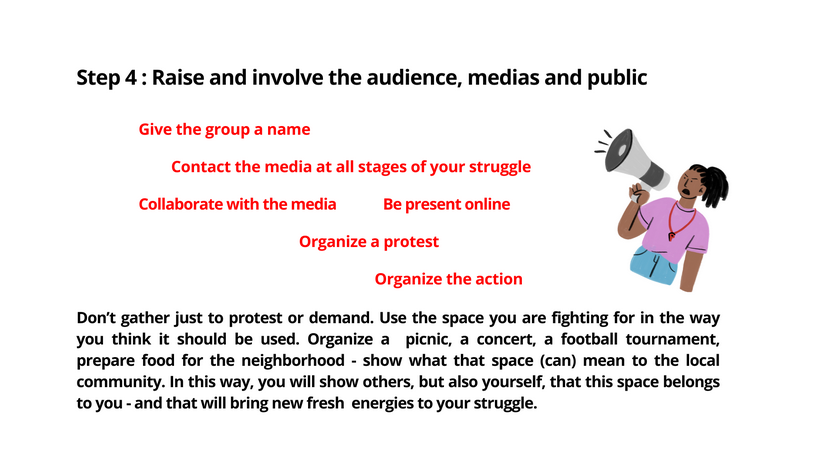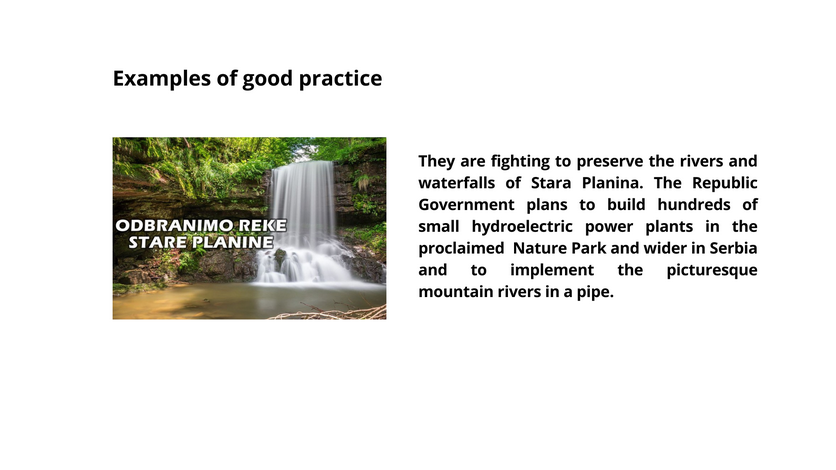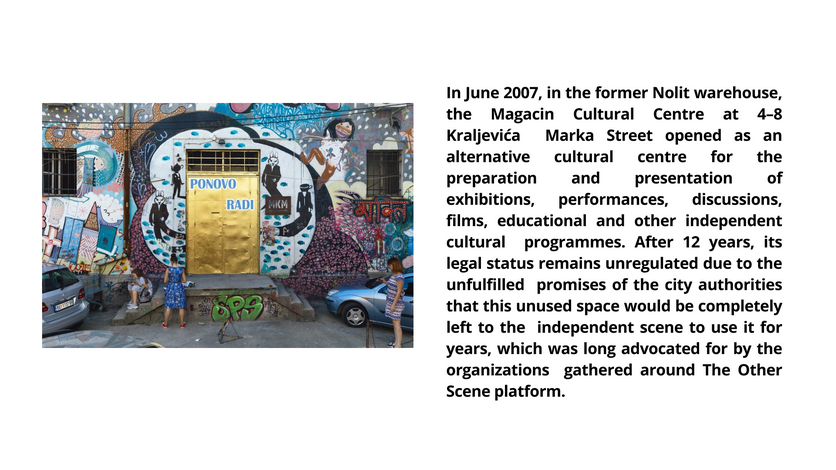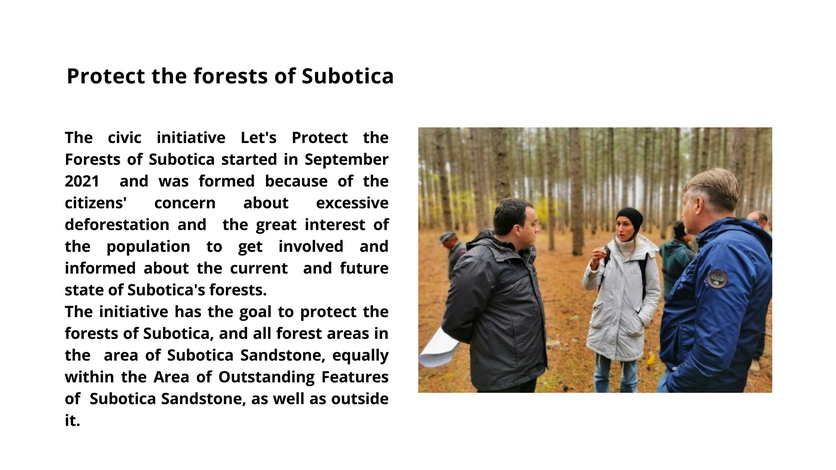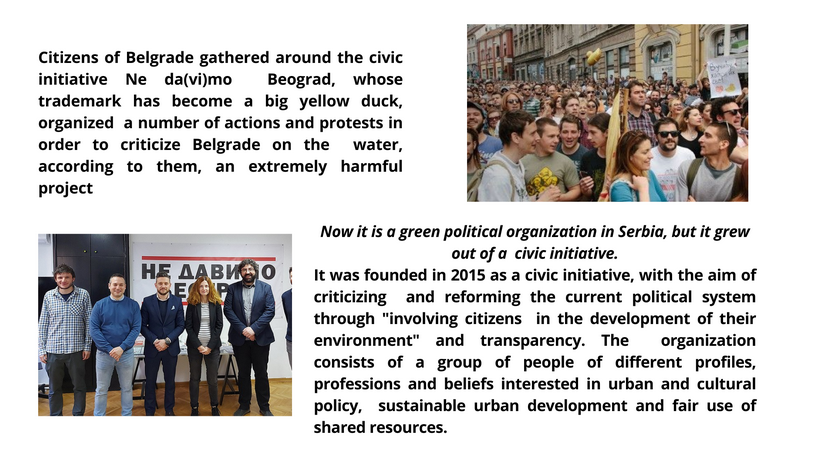 Civil defense of the local public good – alarming citizens
This exercise is a simulation of real circumstances and is based on gathering the group, setting goals, dividing tasks, and executing them. During the exercise, teamwork, cooperation, strategy, and the anticipation of potential problems are practiced. This method is important in strengthening the individual through building a group that fights for the common good.
More citizen participation through e-Participation
E-participation means internet-based procedures that allow the population to participate in political processes and offer the possibility of launching initiatives.
This exercise deals with the topic of e-Participation/online initiatives/online platforms/online petitions.
Cinema club – Debate
Cinema can be an excellent tool for involving adults in the debate on democratic activism.
This approach will have the purpose of soliciting the critical sensitivity of the participants towards the different ways in which an audiovisual text can relate to civil issues. The idea is therefore not only to use a film as a starting point to deal with a social theme by inserting it into a civic education path but also to show how cinematographic practice becomes an instrument of democratic participation and intervention in the public debate.
WRITE YOUR OWN OPEN LETTER
A
participation,
open letters,
citizens in decision-making and
collective petitions.
An open letter is a published letter of protest or appeal usually addre
ssed to an individual, but intended for the general public.
This exercise deals with the topics of
democratic
Critical thinking for survival - Stranded on an island
The following exercise is a planning/simulation game that requires a lot of critical thinking.
After a short introduction to the topic of forms of rule and decision-making processes, the participants have to develop a constitution as part of the exercise.
Using the Maieutic Methodology for the Evaluation of online sources
Exercising your critical thinking skills is a prerequisite for evaluating and properly selecting information sources from the massive amount of results that the Internet offers nowadays. And what is better than exercising critical thinking following the example of the father of philosophy: Socrates?
Using the method of Socrates for eliciting knowledge in the mind of a person by interrogation and insistence on close and logical reasoning, is very useful also in the context of teams. That is why we chose an online interactive platform, aka MIRO, as a tool to practice our method with the use of new technologies.
How to analyse Fake News
This activity is a set up to promote the benefits of Critical Thinking (CT) through a desktop research and reflection exercise. With the help of seven questions, the participants practise critical questioning of information.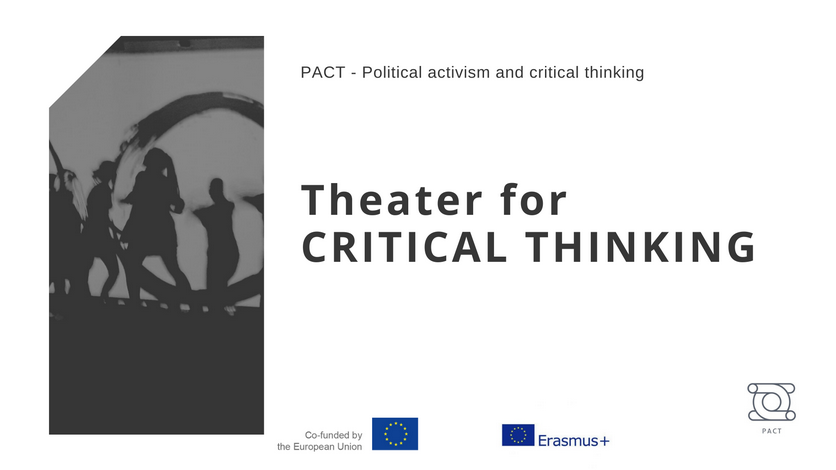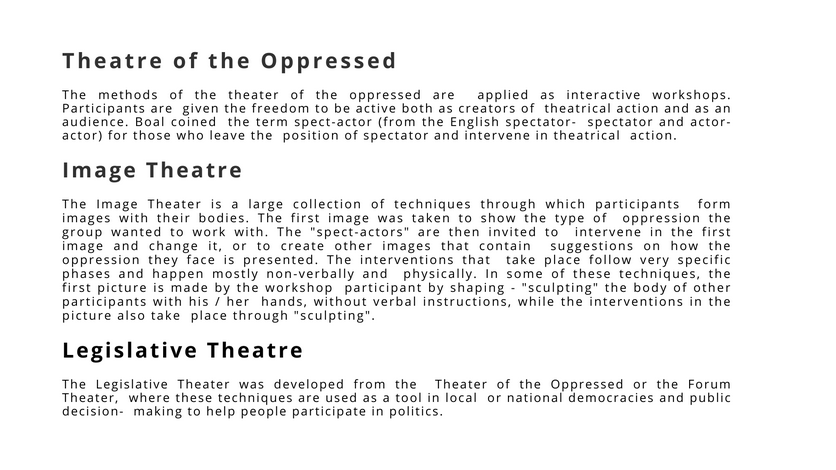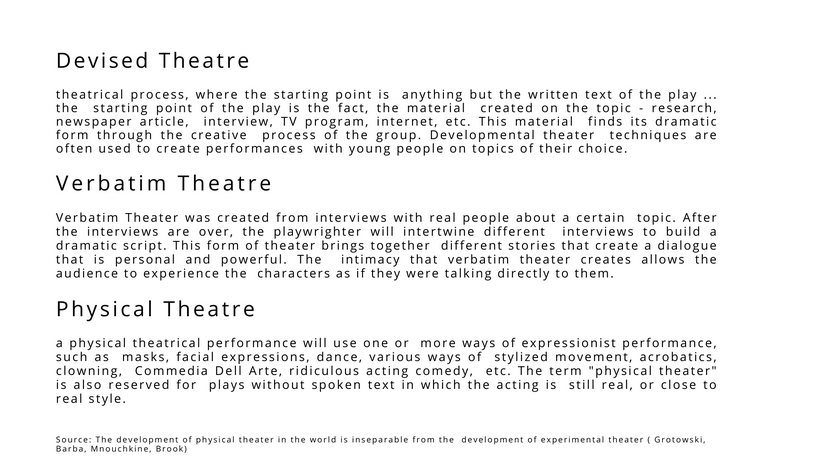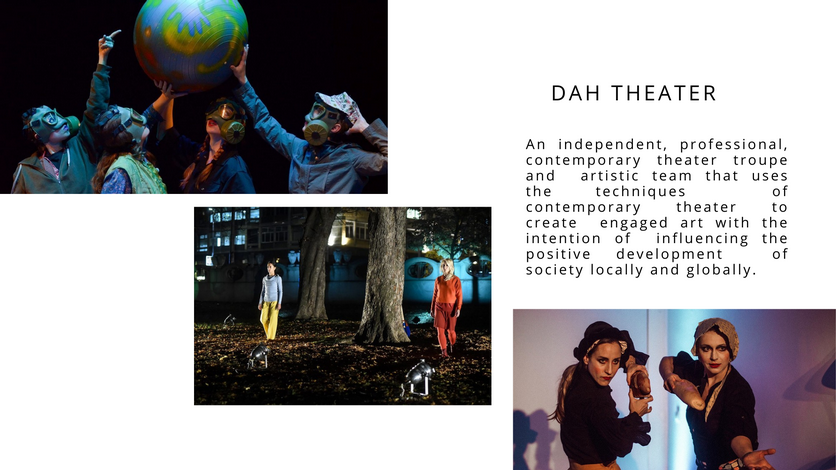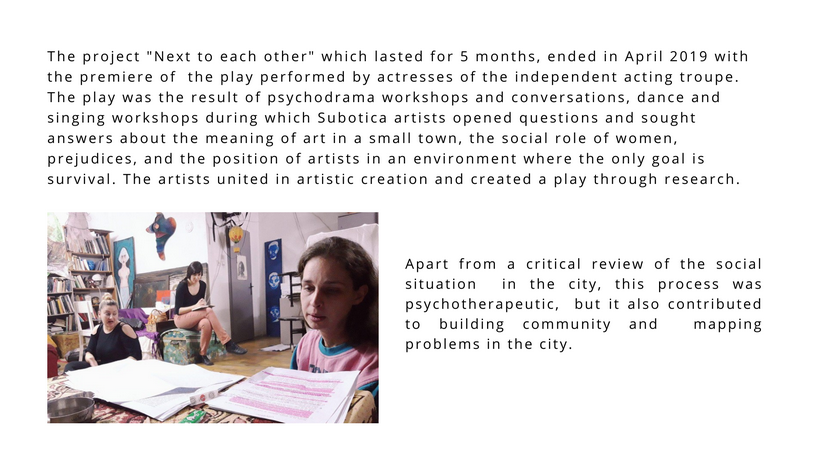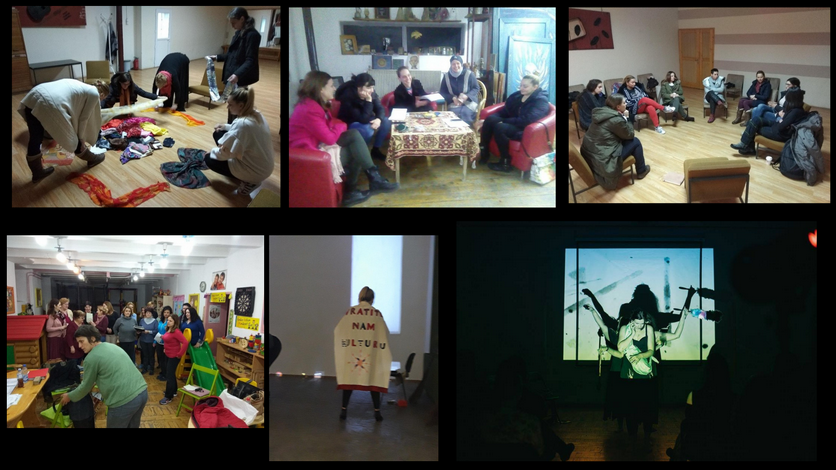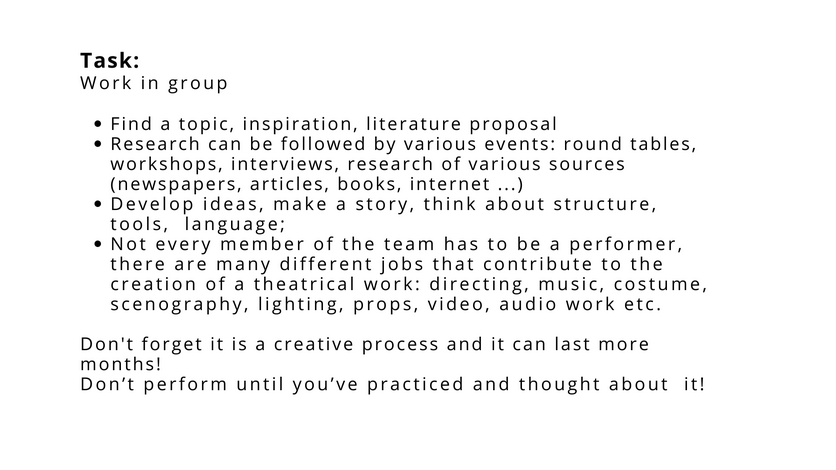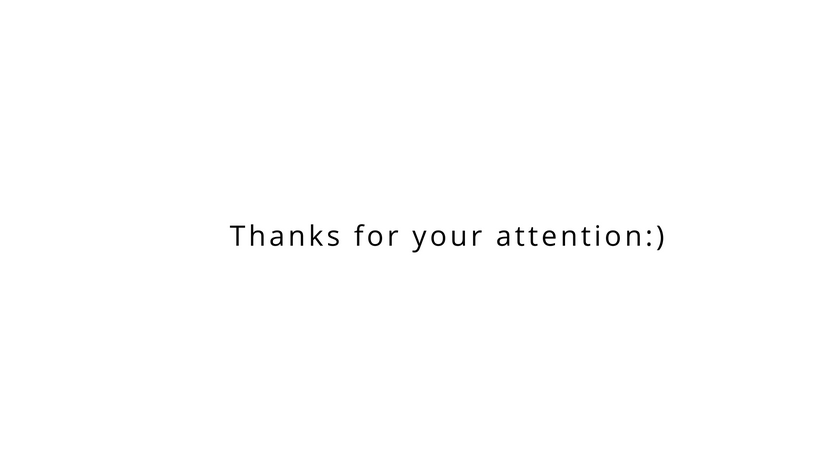 Theater in the service of developing critical thinking
This exercise is just an introduction, the basis for a long and dedicated process that can take up to several months if participants want to create a play that can be performed. The presented exercise aims only to tickle the imagination of the participants and to draw the basic contours of what could be born from this approach.
LTTA - LEARNING TEACHING TRAINING ACTIVITY
How to boost political activsim
TARGET GROUP: Staff who deliver trainings for adults, including low-skilled adults and migrants
The AIM of the 3 days training course in Austria (Linz, Hauptplatz 23) by Akademie für Politische Bildung und demokratiefördernde Maßnahmen (www.pb-akademie.at) is to upgrade the staffs' competences in order to improve teacher's / adult trainer's competences in the work with adults to bring this political activism and critical thinking closer and in order to increase their opportunities for participation.
In order to achieve the main aim, the following OBJECTIVES have been set out in the training for adult teachers / trainers:
deal with formats of methods of political activism and critical thinking

debate open conversation of participants about social circumstances among adults and methods to increase critical thinking and activism

exchange best practices, tools and methods for developing critical thinking and political activism

learn concrete tools and approaches

make ensemble strategy for further work In addition, the participants learn the importance of coordinating different methods, identifying learning resources and developing strategies

learn to structure, visualize and present information, to reflect on learning processes, to develop them creatively, to evaluate and to complete them

The programme is consisted of 8 LESSONS PER DAY.
Each participant will be provided a nonformal education competence development certificate with listed themes and no. of lessons.
DAY 1 COMPETENCE IN POLITICAL ACTIVISM AND CRITICAL THINKING

Welcome, introductory round, icebreaker exercises , debate - open conversation of participants about social circumstances among adults and methods to increase critical thinking and political activism. The participants debate the situation of political activism and critical thinking in their respective countries of origin as well as at the European level. In addition, the methods presented by the Akademie für Politische Bildung und demokratiefördernde Maßnahmen and LUETEC are tried out and evaluated by the participants. The main focus is on dealing with the acquisition of skills in order to be able to participate in the field of political activism and critical thinking.
DAY 2 TEACHING AND LEARNING METHODS IN POLITICAL ACTIVISM AND CRITICAL THINKING
Exchange of best practices, two participants from each participating country of Serbia, Germany and Greece will present best practices in terms of political activism and critical thinking. These examples will be discussed after the presentation.
A total of 10 exercises (exercises for political activism and exercises for critical thinking) are completed and then assessed in the form of a reflection round.
DAY 3 EXPERIENCE POLITICAL ACTIVISM AND CRITICAL THINKING USING THE EXAMPLE OF THE HISTORY OF THE CITY OF LINZ
With regard to political activism and critical thinking, a city tour will be taken to places that have historically witnessed political activism. A look back at the history of the city of Linz shows us how revolutions are developing, changes have an impact, patterns repeat themselves and how people contribute to them. This excursion is intended to encourage the participants to remember and report on similar turning points in their own national history. Forms of political activism and critical thinking of history are to be brought together and reflected upon.


Hauptplatz, 23